Champion Metal Supply Metal Roof Trim is engineered to your precise specifications to complete and protect your buildings. We offer over 20 different trim styles. 
 Along with our available trim styles, we also allow you to draw out your own custom trim designs so that we can create the exact trim you envision for your buildings. Our trims are aesthetic, durable, and the perfect match for your precise trim needs.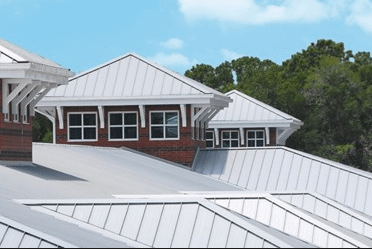 We keep a large stock of trims in most colors for your convenience and for quick order turnaround.
Whether you're looking for trim for commercial or residential use, we've got the products to fit your project! Our products are guaranteed to last and add that extra touch to any home or business!
This is a type of rolling that involves continuous bending of a long strip of sheet metal. The sheet passes through sets of rolls that each perform an incremental part of the bend until the desired cross-section is obtained.
We can customize metal trim to achieve the perfect look to any metal building no matter the industry. We have a wide range of roll formed trimmed products for roofing or walls.
Call Us Today To Request Your Free Quote
Looking for a new metal roof or siding?
Fill out the form or contact from any of the methods below!
 We pride ourselves on being one of the best Metal Roofing Suppliers in the Midwest!